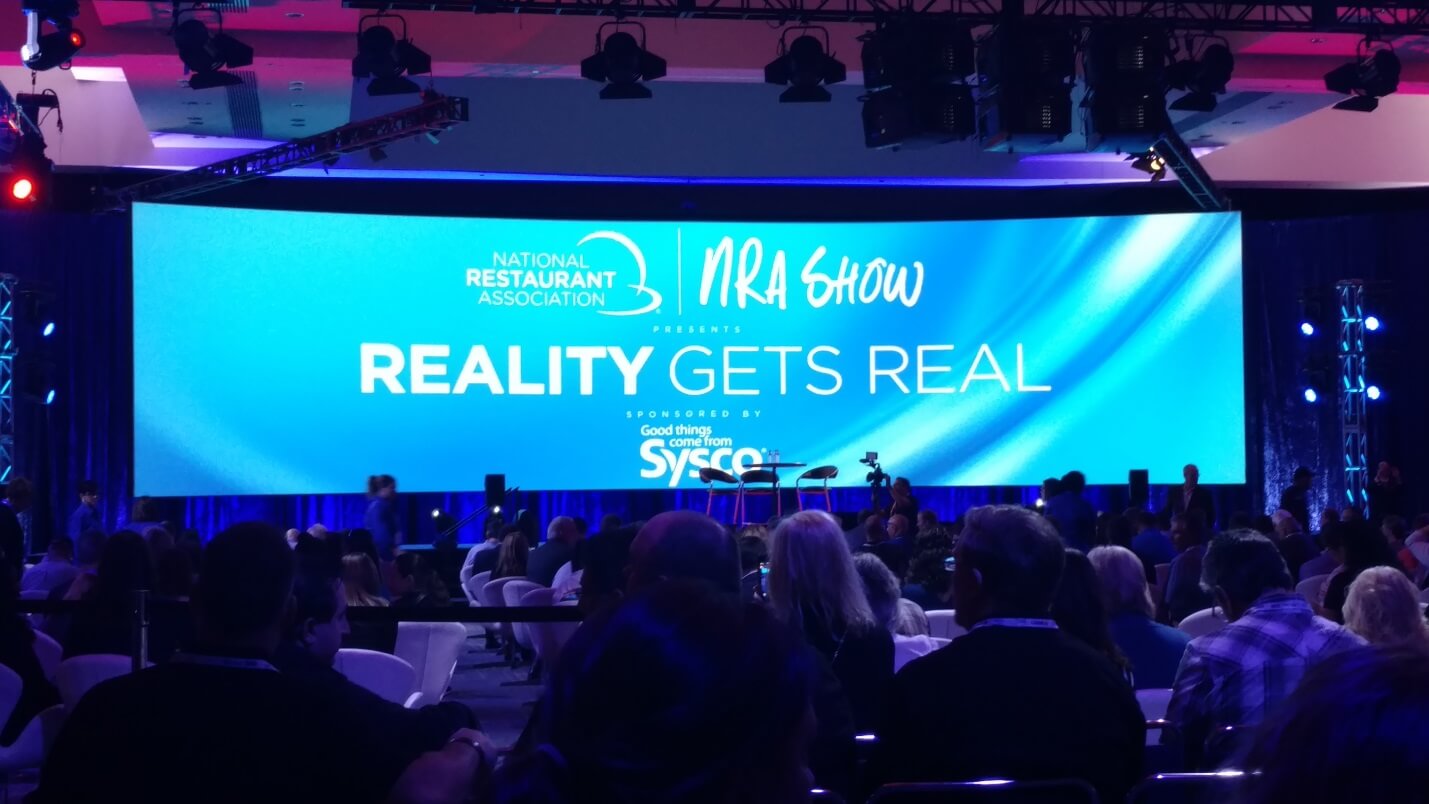 In May, I had the opportunity to attend the NRA Show's first crowdsourced session Reality Gets Real with Jon Taffer & Chef Robert Irvine, two of the industry's most recognizable television personalities. As a huge fan of both of their shows, and as the marketing manager for East Coast Chair & Barstool, the national furniture sponsor of Bar Rescue, Season 4, I had been looking forward to this session since it was announced by the NRA.
As I made my way into the packed Grand Ballroom at McKormick Center in Chicago, IL, I had no idea what to expect, but I was pretty sure that it would be worth the trip – and it didn't disappoint. What followed was an hour of candid, rock solid advice from two hospitality pros that have seen and done it all in the industry. Without any of the showmanship and bravado of their TV personas, these two highly intelligent thought leaders gave insights into everything from evolving to stay ahead of the competition to why they are so hard on the bar and restaurant owners that appear on their respective shows.
Hats off to moderator Phil Kafarakis of the NRA, who did an excellent job of keeping the conversation moving while still allowing for plenty of give-and-take between Jon and Robert.
Below, I've summarized some of the key takeaways from the session. If you would like to watch the recording (which I recommend), you can find it here.
Leadership
Leadership, or lack thereof, is the biggest factor in whether a restaurant succeeds or fails. Both Jon and Robert have around a 70% success rate in turning around bars and restaurants on their respective shows; they are able to achieve this level of success by turning failing owners into more effective leaders.
Both Jon & Robert said that the biggest failures they've had were caused by owners that never really accepted responsibility and refused to acknowledge that they were the reason their business wasn't working. Both have witnessed owners undo all of the renovations and processes that they have put in place…before their shows have even aired.
Jon and Robert use fear as a motivator on their shows to get failing owners to take responsibility for their failure. Both say that nothing gets a failing business owner to take action quicker than appealing to the fear of losing their house and putting their family in serious financial trouble.
Marketing
A brand isn't a logo, it's not a color, and it's not a marketing material. A brand is what we do. Brands aren't created; they're built one guest at a time.
We don't create food and beverage in this industry, we create human reaction. If a guest doesn't react to your food, then you are going to be stuck in mediocrity. Whoever creates the best reactions wins.
In Jon's experience, if somebody comes to your bar/restaurant and has a flawless experience, the likelihood that they will come back is less than 40 percent. If they come back a second time and have a flawless experience, then the likelihood that they will come back is still under 50%. However, if they come back a 3rd time and have a flawless experience, the likelihood that they will come back for a 4th visit is over 70%. So, as operators in the hospitality industry, we should be marketing for at least 3 visits.
Millennials look at their phones about 260 times per day, so we, as marketers, need to find a way to get on that phone to communicate with them.
Jon believes that technology is bothersome when it gets between a server and a guest. He stated that people don't come to your establishment for food, drink, or to watch sports, all of which they can get at home; rather, they come for the experience…and that is how you compete by giving them a world class experience. So, don't let technology get in the way of creating that experience. Robert, on the other hand, believes that technology, when used effectively, enhances that experience.
Cell phones (technology as a whole) can be a killer of business, because they put all of the power in the hands of the consumer. It's extremely easy now to get on your cell phone and tell a worldwide audience how your meal/server/experience was terrible.
Operations
About 70% of the restaurateurs that Jon comes into contact with on his show don't even have data on their food costs, beverage costs, or overhead.
Both Jon and Robert believe that it is so important to know your costs and your weekly P&L. Robert gets daily reports on all of his restaurants' profits & losses so that he knows what he made and what he lost. "It's my money, and I want to know where it's going".
Robert thinks that, as a restaurant, if you aren't redoing your interior every 3 years, you run the risk of becoming stale and losing to the competition.
Robert believes that wallet-less payments will soon take over the industry. The technology is already there, the only thing lacking is consumer acceptance. He said that servers will have a credit card that wages and end-of-the-night tips will be paid to, and the money will be made available to them immediately: "Uncle Sam will love it, and the servers will hate it".
We are creatures of habit. We love to go to the same restaurants and eat the same food. Excellence can only be achieved through consistency. If you aren't producing a consistently great experience, there will always be somebody newer that is.
One thing was clear from attending this session: Jon and Robert create successful restaurants by taking a top down approach. If you are a struggling business owner, you don't have to be on television to change your fortunes; you can learn a lot by watching this session and questioning your leadership, processes, and attitude toward change. Don't expect your employees to do it for you: any major changes are going to have to start with you.
Save
Save
Save
Save
Save
Save