So, you've finally found those tabletops that are going to look perfect in your restaurant, but which bases should you choose to accompany them? Believe it or not, this is one of the most common questions that our customer care team receives. The answer is both surprisingly straightforward and difficult at the same time; there are many different variables involved, including personal taste, location, and cost. Fortunately, after fielding this question from customers far too many times to count, we are ideally positioned to answer it for our readers. Here are 3 of the most important factors to consider when choosing a base, as well as advice on how to choose the right table bases.
Location
The first consideration when choosing a table base is location. Specifically, will you be using the table indoors or outdoors? Most outdoor table bases are constructed from aluminum, stainless steel, powder coated steel, or cast iron. If you live in a coastal area with high levels of salinity in the air, then aluminum is a great choice because it will offer the best protection against rust and/or corrosion. If salt spray isn't an issue for you, then you can choose between any of the outdoor base materials.
Table Shape & Size
Ok, this is where it starts to get a little complicated. The shape and size of your table is the biggest factor in what type and size of base you choose. Have you ever gone to a restaurant and leaned on the table only to have it start tipping over? If so, that's because the table wasn't properly supported by the base. That happens a lot with rectangular tables and large heavy tables. Often, customers will call in and want a single base in the middle of a 30" x 48" rectangular table. While that may work with a lightweight laminate or plywood table, it won't offer the support needed for a heavy solid wood or resin table. What we recommend is putting one smaller t-style base at each end of the table so that it is supported from the ends instead of the middle. The same idea applies to large square and round tables as well.
Weight
The weight of the base that you choose is also important. In general, the weight of your base should coincide with the weight of your table. Lightweight tables like melamine, laminates, and aluminum tables go best with lighter x-style bases, while heavier tables like solid wood, and resin pair well with heavier disc and plate style bases.
There are a few other considerations with regard to weight. If you move your tables frequently – perhaps you host events – you may want to go with a lighter weight base that is easier to move. The other special consideration is if you are using an umbrella on an outdoor table. In that case, you will either need to choose a heavy base that is specifically designed to accept an umbrella, or choose a leg style table base that will also allow you to use a heavy umbrella base.
While there is no "one size fits all" algorithm for choosing the right table base for your restaurant, we can give you the guidelines and our recommendations. The chart and infographic below should make it a much easier process.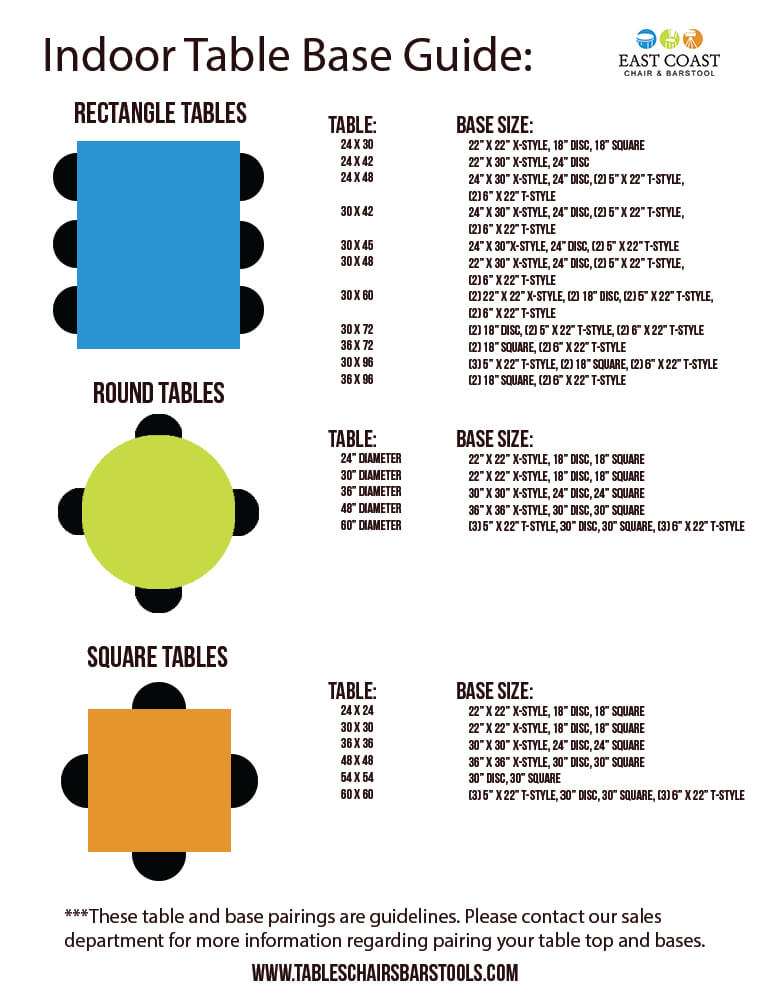 Save