Shopping for your restaurant umbrellas can be overwhelming. Decisions have to be made on the fabric, pole materials, how much shade you're trying to provide, and who to purchase it from. Who knew there were so many questions that need to be answered so you can give your customers a cooler seat outside?
But your end goal is the same. As a restaurant owner, you want to find umbrellas that are durable and cost-effective.
Some restaurants make the mistake of using the freebie umbrellas they receive from beer or liquor sales reps. For the most part, it will take one very windy day to prove these umbrellas useless. A lot of care should be taken when purchasing an umbrella because the wrong umbrella can be a liability to your business.
How much do umbrellas cost?
An umbrella's price point will correlate with its materials, meaning sometimes you can tell right away if the umbrella will be strong enough for a commercial environment. Aluminum umbrellas can run you from $200 to $600 while fiberglass umbrellas can go from $300 up into the thousands, depending on what features are included. If you are planning on using your umbrellas season after season, you need to factor quality in when calculating what umbrella is right for your business. Brand names can be a part of the umbrella's price which is why it's so important to analyze the umbrella's materials. Our buying guide breaks down what you need to know about restaurant umbrellas and will give you the confidence to make the best purchase decision possible for your patio.
Types of Umbrellas
To better understand the buying process of an umbrella, you should know the types that are available and perhaps, the ones to avoid.
Free-standing/Table Umbrellas:
When you think of restaurant patio setups, you probably include an umbrella in your mental design. What you've most likely drummed up is a free-standing or table umbrella with canopies that are situated on top of an upright pole. Most often, these umbrellas are used in the center of a table top so that the canopy shades the table, chairs, and diners. Many commercial furniture retailers offer their outdoor table tops with the option of an umbrella hole. You'll often see market umbrellas in commercial restaurants. Their octagon-shaped canopies and vented tops are a stable and a sizable option when it comes to pairing umbrellas with your table tops.
Cantilever Umbrellas:
Don't want a pole in the middle of your tables? A cantilever or offset umbrella may be the way to go. These umbrellas stand out of the way but cover your space with an off-center pole that positions the canopy over the area without being in the way. Versatility in smaller spaces where there isn't always room for free-standing poles, adjustability, and their strong durability are great perks of this type of umbrella. Cantilever umbrellas can be more expensive and often require a sturdier base than other umbrella types because of its pole's offset position.
You may also see tilting umbrellas in your search, which are umbrellas that can be angled from their upright pole. Most restaurant patios will not have customers sitting there for the time it takes for the sun to gain a new position, making it an unnecessary function.
Anatomy of an Umbrella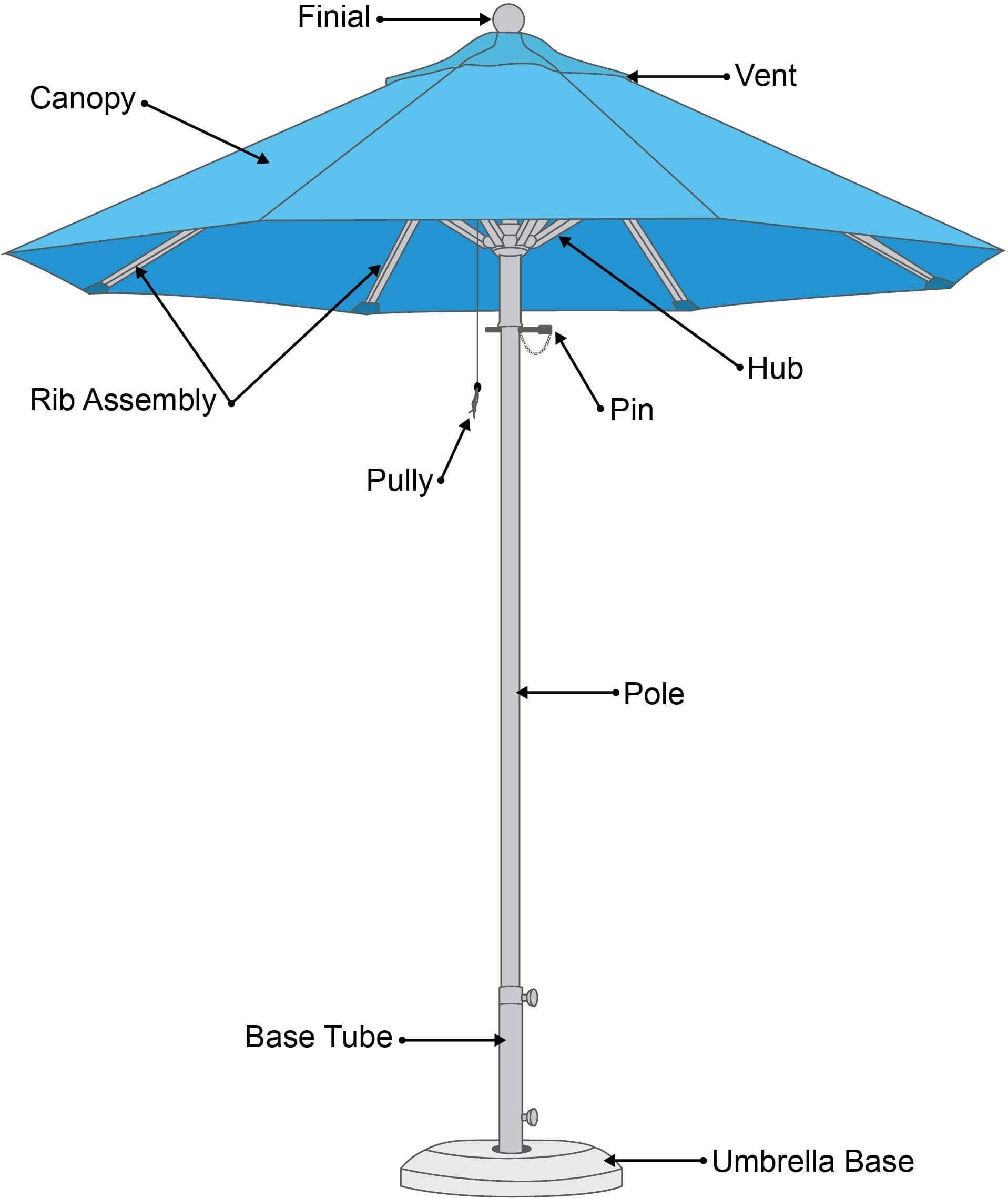 When it comes to umbrellas, there are some details that deserve mentioning to make sure your umbrella has the durability needed by the commercial restaurant industry. Here's what you should pay careful attention to:
Finial– This piece anchors the top of the canopy fabric to the frame with function and can add a decorative touch.
Ribs– These are the skeletal system that holds out the canopy in the open position. How the ribs are assembled, how many there are, and the material can add strength to your umbrella. If it's a lower quality umbrella, the ribs are often the first place to go, inverting your umbrella and probably snapping. Avoid this by making sure your patio umbrella is built with strong ribs to reinforce the canopy. Fiberglass ribs are the most durable material but you can also find wood or aluminum ribs. If a rib does break, you can often find a replacement but you should check the original manufacturer's warranty first to find out what's covered.
Hub– Where center ribs attach to pole, the hub is a crucial part of the umbrella's framework. This allows for the attached ribs to open and close when the hub is moved along center pole.
Canopy– The fabric that provides the shade needs to be a good quality for your patio to hold up in a commercial environment. We'll discuss the why there is a "right" canopy fabric later, but know that the canopy is your first line of defense against the sun's rays. Some canopies also have vents, fabric layers that allow air to flow through, circulating it similarly to a camping tent vent. Other's will have valances, fabric that comes down from the canopy and hangs around the perimeter for extra shade.
Pole– Besides the ribs that extend the canopy, the umbrella's support system starts with the center pole. Whether offset or upright, the pole should be made of a high-quality material to withstand weather conditions. Pay close attention to the way the pole is constructed as some come as a single piece and others can be broken down into two. Poles that are a single piece are more durable in a high wind situation.
Base– The foundation of a good commercial umbrella starts with the base. Mobile bases can be made from heavier metal or plastic (weight is added with gravel, water, or sand) and can be wheeled around by tilting the umbrella and base back. These can be a good choice if you are constantly moving around your outdoor setup. Stationary, or fixed, bases are great for windy environments because they are attached to the floor, wall, or in the ground. These obviously cannot be moved around. Stationary bases can also add extra support for larger scale umbrellas.
Depending on if you have a cantilever or table umbrella, you can more aptly choose the correct base. Cantilever umbrella bases are often heavier because they must distribute the weight of the offset umbrella. You can often find table bases that integrate with your table top and umbrella for a cohesive unit and smooth design that doesn't add a lot of extra bulk.
**It should be noted that tilted and pulley and crank mechanisms are not advised for commercial environments. These two ways of opening bring more liability than that of a manual push up system.
How big of an umbrella do I need?
Your umbrella size all depends on the area you're trying to shade. It may seem obvious, but you're going to want an umbrella canopy that stretches past your table to effectively cover the table, chairs, and your guests.
| | | |
| --- | --- | --- |
| Size of Table (Round or Square) | Size of Umbrella | Weight of Umbrella Base* |
| 24″ | 5′ | 50 |
| 30″ | 5.5′ | 50 |
| 32″ | 5.5′ | 50 |
| 36″ | 6′ – 6.5′ | 50 |
| 42″ | 7′ – 7.5′ | 50 |
| 48″ | 8′ – 9′ | 50 |
| 60″ | 10′ | 75 |
| 72″ | 11′ | 75 |
| 30″ x 48″ | 8′ – 9′ | 50 |
| 30″ x 60″ | 10′ | 75 |
| 30″ x 72″ | 11′ | 75 |
Weights are recommended when using a sturdy outdoor table. Heavier weights may be required on varying environmental factors. This chart does not apply to free standing umbrellas.
Why fabric choice is important
The whole point of an umbrella is to provide your guests with some shade and comfort while enjoying nice weather, which makes picking out the right fabric even more important. Material that fades not only looks poor on your patio, but also loses UV ray resistance, rendering the original intent of the umbrella ineffective. This can open your customers up to getting burned and lead them to making a different dining decision in the future.
Umbrella canopies can come in a variety of fabrics including plastic, cotton, vinyl, polyester, olefin, and solution-dyed acrylics. But to have the most durable fabrics and protect your customers, look for names like Olefin, Suncrylic, and Sunbrella. Each of these fabrics is solution-dyed, locking the color into the fiber and stabilizing pigments to be UV-ray resistant. These respected names in the commercial furniture industry will allow your dollar to go farther by choosing a resilient fabric that not only will continue to look great, but will also continue to shade your guests.
Choosing a patio umbrella for your restaurant can be overwhelming but now that you know what to look for, you're a pro! You can successfully select an umbrella that will give effective coverage from the sun to your guests while they're enjoying themselves in your outdoor space.
Questions about choosing your umbrellas? Call our customer care representatives at 800-986-5352 for further assistance. We'd be happy to help!