In an ever-changing world with new technologies emerging every day and societal pressure to be new, fresh, and different, it's amazing to realize that today's most preferred and prestigious event chair was designed over 200 years ago. While there have been many improvements to the Chiavari chair to modernize or add an updated twist to the overall look, the classic and traditional style has proven its timeless appeal. That's why I thought I'd dedicate this entire article to Chiavari chairs!
Read on to learn about: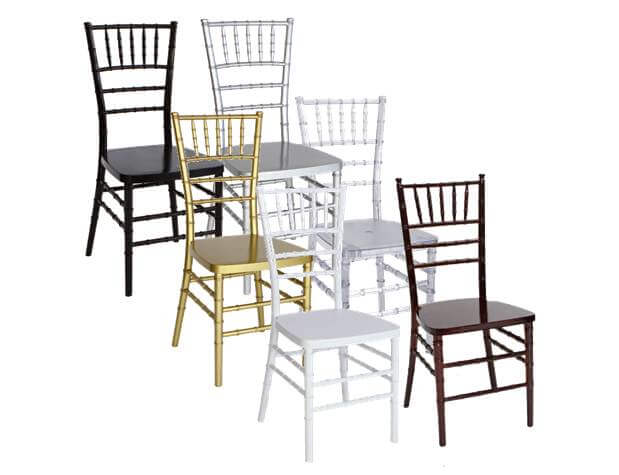 History of Chiavari
You call it a what?
When should I use a Chiavari chair?
How can I dress up my Chiavari chair?
Popular culture & Chiavari chairs
History of Chiavari
Designed by Italian craftsman Giuseppe Gaetano Descalzi in 1807, the design was modeled after chairs brought to Descalzi from Paris. With a goal of creating a lightweight, yet functional, chair with a highly elegant style, Descalzi gave birth to the Chiavari chair. Descalzi, whose nickname was "Bell Ringer," was praised for the durability and beauty he achieved in his design, which far exceeded the Parisian chairs in which he modeled his design. The Chiavari creations weighed less; plus, Descalzi's chairs were stronger and held more weight. The elegance functionality of the chair soon grew in popularity, and thus, a multi-century trend was fashioned. Since its inception, the Chiavari chair has seen numerous variations and versions, but quality has been at the helm of every Chiavari chair's maker.
You call it what?
Although you may call them 'chivari chairs', the correct spelling of Chiavari chairs comes from the town of Chiavari in Italy where the styling was first created. So while you may refer to them as chivari chairs, proper spelling is Chiavari (shi-var-ee). In some instances, you may hear them pronounced kee-ah-var-ee, from the Italian pronunciation of the town Chiavari. It's not a brand name, and many manufacturers make their own Chiavari chairs. You may also hear them referred to as Tiffany Chairs. Tiffany Chairs is just another term for the same type of chair as a Chiavari chair, given so to acknowledge the prestige of the design. Because of the popularity of their use at weddings and wedding receptions, still others may refer to Chiavari chairs as "wedding chairs." No matter what you call them, a Chiavari chair is highly recognizable to many.
When should I use a Chiavari chair?
Chiavari chairs have many uses, and because of their versatility, many banquet and conference centers have decided to have them on hand for all of their special events. While, as a generalization, these chairs are somewhat inexpensive, the Chiavari chair is also quite versatile – acting as the perfect fit for any type of function or occasion. From weddings to corporate events, casual get-togethers to audience seating, Chiavari chairs afford one the ability to accommodate any type of audience at any type of function. Both timeless and multifunctional, these elegant chairs provide versatility, ease of use and storage, and the ability to customize their look to the desired event. Although most often given as a seating option for larger gatherings and special occasions, the Chiavari chair is a practical, interchangeable, and decorative accent – or feature – for almost any space. They do present a touch of class and are often used for more formal gatherings, but with their simplicity in elegance and their lower price tags, Chiavari chairs offer a great seating solution for everyday events.
The good news is that the Chiavari design is now reaching new heights! Have you seen a Chiavari bar stool? They are also taking on more color; see this one in a transparent sapphire, and tell me how fun it would be to set up an event with a selection of these!
So the answer is – use your Chiavari chair all the time, whenever your heart desires!
How can I dress up my Chiavari chair?
The ability to customize Chiavari chairs – either dressing them up or down, with fabric, cushions, bows or the like, gives the host flexibility of using these chairs to create and enhance the environment of a particular function or venue. Here are my favorite suggestions for adding some pizazz to your Chiavaries:
Add or change your Chiavari seat cushion
Tie a bow on the back
Fasten branches or long-stemmed flowers to the side of end chairs in a row (such as in wedding or audience seating)
Drape a knotted a sash of satiny fabric over the back and let it hang down the back of the chair (but don't cover up your entire Chiavari with a chair cover)
There are plenty more creative ideas on how to make your Chiavari chair stand out.
What's great about a Chiavari chair, however, is that they are so beautiful on their own, that choosing Chiavari for your event or venue already makes your chairs stand out, so you can focus the rest of your decorating energy on other elements, like the centerpieces.
Popular culture & Chiavari chairs
I hold strong on my statement about using Chiavari in your everyday. You don't need to wait for a special occasion to enjoy the classic design of these elegant chairs. Use them as your restaurant dining chairs, choose a resin Chiavari chair for your porch seating, or offer them for all your conference or theater-style seating. However, if you're about the glam and want to know if famous people use these chairs, the answer is yes! A popular choice for TV host and wedding planner, David Tutera, these chairs are all the rage in celeb special events. Carrie Underwood, Bethenny Frankel, and countless other celebrities have used Chiavari chairs on their wedding days, and when John & Jackie Kennedy were married, they had Chiavari chairs, too. They've been shown on movie and TV sets, and many famous and not-so-famous modern brides alike are requesting these chairs from their wedding venues with all the well-deserved hype surrounding Chiavari chairs.
Whatever your individual preference, it's clear to see: Chiavari chairs are here to stay. They are one style statement that isn't going out of fashion any time soon.