Whether you're looking to furnish an entire resort or a just need to fill a patio, we've added a quite a few new products to our outdoor furniture lines. Our goal is to educate you as a customer as much as possible so you can make the best informed decision. You're also getting an exclusive sneak peek of a brand new collection that's coming soon to our sites, so you will be ahead of the game with new trends. As establishments grow and want to offer more space and different atmospheres, outdoor areas are becoming increasingly popular. As a business owner, it's important to know the options available to you and get inspired.
Isotop Laminated Table Tops- A Versatile Option That Lasts All Year Long
In the commercial industry, it's important that you can trust your table tops to endure heavy wear and tear. Introducing the Isotop Collection that's perfect for a traffic-laden restaurant or bar. Our Isotop table tops combine aesthetics and science to create a durable, strong piece that is a great asset for your restaurant or bar. These tops are precision molded from a blend of resin, wax, and wood pulp to create a high density laminate. Depending on how you want your edges to look, the Isotops come in the Plus style, a 1 ¼" edge, and Sliq Compact style, a ½" edge. These tops are made to be strong with burn and scratch resistant surfaces. With the option of indoor or outdoor and a wide variety of colors, the Isotop table tops can be customized for your need as a restaurant.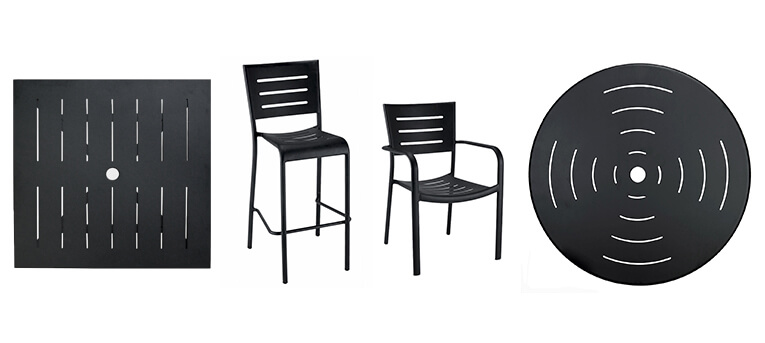 The Athena Collection- Classic Silhouettes with Modern Accents
Float on up to Mount Olympus with the Athena Collection this summer. A textured black powder coat offers a durable yet modern look, making the Athena great for a casual sidewalk café or a dining patio. To give this collection an ethereal, airy feel, slot detailing is used for a lightweight appearance. But these chairs are as sturdy as the goddess herself, each Athena chair, bar stool, and table is heavy gauge aluminum and rust-resistant. Even your staff will love the stackable features of the chairs for simple storage. Table tops are available in round for a more intimate experience or square that can easily be pushed together. To truly create a heavenly experience for your guests, umbrella hole grommets are included for straightforward umbrella installation. Let the Athena Collection bring a neoclassic atmosphere to your patio and increase your curb appeal.
The Atlantic Collection- Poly Slats for Easy Maintenance
Bring this collection back to your coastal paradise for a unique look Appearing more modern and streamlined than its sister collection, the New England, the Atlantic Collection offers a stark contrast between the teak coloring and aluminum frame. Don't let the teak-inspired poly slats look like maintenance mayhem; this collection is easy to clean and simple to store. You get all of the advantages of this outdoor furniture look like real wood without the nightmare of trying to take care of it. To keep your pieces looking happy as a clam on your patio all year long, the aluminum frame is powder coated in deep black to prevent rust and resist the harsh outdoor elements of seascapes. Whatever kind of furniture (bar stools, chairs, and tables), the Atlantic Collection has it all. With the range of bar stools, chairs, and tables that are low maintenance, the Atlantic Collection offers a seating solution that's just as perfect by the sea as it is in the city.
The New England Collection- Bring the Rustic Trend to Your Patio
A new collection is coming to port soon. The New England Collection plays on the rustic trend that's been popping up all over patios this past year. Perfect for a seafood restaurant or cocktail hour on a terrace overlooking the bay, this trend is easy to integrate with your establishment. Poly lumber slats, inspired by the northeastern United States and reclaimed wood, used in conjunction with a powder coated aluminum frame to give off an urban edge. The poly slats of this collection make for easy cleaning and are reminiscent of coastal reclaimed wood, without the hassle of caring for them. The New England Collection is ideal for outdoor spaces with its durability and strength. With an array of bar stools, chairs, and tables, you're sure to find what you need to bring the rustic with an edge theme to your restaurant or bar. This collection will be here soon, so stay on the lookout for this trendy set!
Now that you know a little bit more about the new outdoor collections, feel free to start your journey by going here. If you have any questions at all about the collections, feel free to give us a call at 1-800-986-5352. What are outdoor furniture must-haves for your business? Which one of these collections speak to you and your restaurant's theme? Leave a comment below and let us know!
Save