What size tables do I need? How many people can fit comfortably at each table? How many tables can I fit in my space? How much room do I need to leave between tables?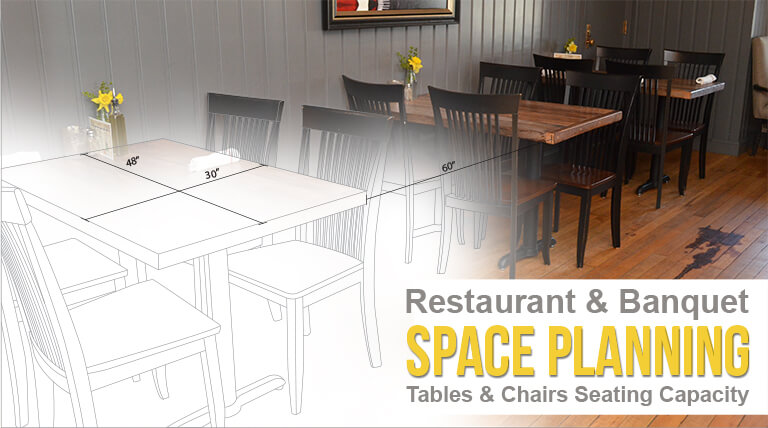 These are all questions that run through your mind as you design the layout of your restaurant or banquet center. Choosing the correct elements is crucial for efficient operations and creating the ideal atmosphere for your guests. Here is a checklist of considerations you will need to address during planning.
Space Planning:
Figuring out your goals of the space will save a lot of headaches in the end. You want to take stock of your main priorities with your space before taking any action. Determine what you as a business require from the space and run with it.
Determine the square footage of your area. Physically, you must know how much room you have to work with in order to organize it.
Make a list of all the functions you plan on using the space for (e.g., restaurant dining, banquet style seating, classroom/seminar seating, with or without dance floor, bar and cocktail areas, buffet or stage areas).
Know what your brand is and how you want to portray that. The atmosphere that you are trying to convey to your public can be used as the inspiration for creating the layout.
Understand customer expectations. There's a fine line between what customers want from you and what you are able to do for them; find that line.

Brainstorm, brainstorm, and brainstorm! This is not something to just jump into; it requires time and effective planning to lay the creative foundation for your dream space. Now is the perfect stage to mentally move your ideas around without having to do any heavy lifting.
"When you're working with a sales member, it's important to know what your vision is so we can better serve you, the business owner. If you're at a loss for inspiration, I recommend studying other people's layouts in restaurants or bars. What works, what doesn't work can jumpstart your own ideas."
– Chris Miller, Customer Care Specialist
Go the Distance:
It's always helpful to have some requirements to keep mind while you're getting the measurements you need for your space. Here are some industry-standards to help you when it comes to furniture placement.
Allow 18″ from the edge of the table to the back of each seat
Allow at least 12″ between chairs that are back-to-back
Allow a minimum of 24″ of aisle or service space (please note, the Americans with Disability Act requires greater room in at least 5% of the dining area for wheelchairs)
Allow 54″ between round tables and 60″ between rectangular tables to create the needed service space
Allow 24″ – 30″ between table corners when placed diagonally
Allow 12" between your seat and the bar or table

Map it out with the right materials. While taking the above measurements in mind, don't forget to start with basics. Pull out the graph paper and set a scale to determine the approximate number of tables and chairs that will fit.
"Try drawing or modeling out your layout with chalk or boxes. This can give you a better idea of the space you're working with, reducing mistakes when you order. It can help a sales team member be able to help you more efficiently."
– Chris Miller, Customer Care Specialist
Choose Your Table Shape and Size:
The most important part of selecting a table shape and size is that the tables have adequate space and go with your vision for your particular establishment.
Square tables offer the most flexibility and are easiest to move around or rearrange. For a durable, streamlined option that's easy to push together, check out our Homestead Collection.
Round tables are often considered the most elegant and are great for banquet seating. Drop leaf round tables can offer some additional flexibility in case you need to accommodate a large party.
Rectangular tables are most common for the everyday dining experience because of their versatility. Our rustic farm tables are a popular choice for large or small seating needs.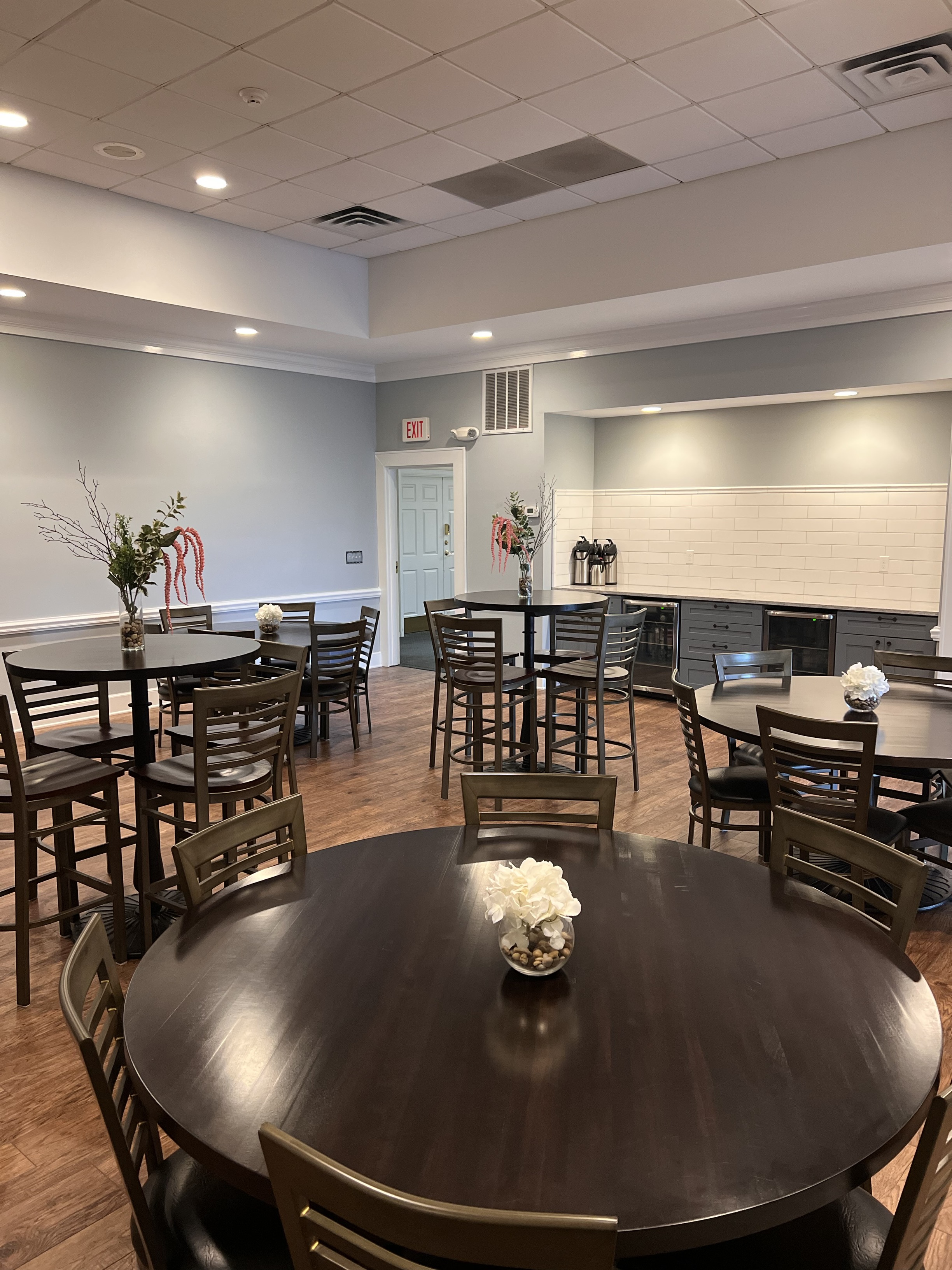 Follow our recommended table seating capacity chart, and think about how and what you serve to your customers. Are you just a coffee and dessert establishment, or are you a fine dining restaurant that offers 8-course meals? Envision everything that will be taking up space on your table tops. Will you have candles, salt and pepper shakers, water pitchers, wine cantors, etc? Do you serve full-course breakfasts that come on three plates per person? Or do you serve bar food that takes up less space? Keep all these things in mind when you choose your table size and how many chairs you put around each one. While it is recommended that each person have 2 feet of the table's circumference or perimeter, or an estimated 300 square inches of table top space, your patrons may require more space depending on what you are serving. On the same token, elementary school cafeterias would not need to offer as much space per person as a college or corporate cafeteria. These concepts are subjective to your needs.
Many restaurants incorporate varying sizes of tables to allow for maximum seating capacity, the flexibility to serve differing sizes of parties at the same time, and to create a more aesthetically appealing restaurant space.

A variety of seating styles can change up any area. Mixing booth or "anchored" tables (edge of table against wall) with floating tables is a great way to maximize space. Placing square tables diagonally also saves floor space and can restrict views from one table to another to create a more private dining experience for your guests.
Measuring/mapping your space out is crucial to avoid a mistake whenever you order. You don't want to buy too many or too little tables and chairs. By knowing your space and what you can fit in it, the sales team can help from there. In the end, you don't want to have to worry about shipping materials back or a restocking fee. It's cheaper and more efficient to choose your products correct the first time."
– Chris Miller, Customer Care Specialist
Some Additional helpful tips:
Check the local codes and be sure you always comply with the Americans with Disability Act (ADA). As a rule, 5% of the total space should be accessible to people in wheelchairs. Wheelchairs typically require a 36″ clearance for aisle space in dining areas. Be sure the section of your establishment that is ADA-compliant is accessible to the entrance/exit and also public areas, such as the bathroom or cashier's counter.
Do you foresee rearranging tables frequently for different events? Be sure to purchase lightweight tables and chairs that will be easy to haul around, and choose ones that will not mar your floors. You may also be interested in purchasing a chair and table dolly to lighten your staff's load.
Want to be prepared for extra customers? Keep a few lightweight stacking chairs in storage in case you need to pull them out to accommodate larger parties.
Not expecting a lot of movement? If you are a finer dining establishment, you may want to choose the larger table per recommended number of guests and purchase heavier chairs that create an illusion of being more prestigious and luxurious.
While these guidelines and recommendations are helpful starting points, laying out a unique restaurant or banquet space for your particular establishment and utilizing the space you have for your specific goals will take a lot of thought. Don't be afraid to think outside the box and design a great looking restaurant or banquet space that effectively meets you and your guests' expectations!
Was this helpful? Let us know!
Check out our site for more tips and furniture to fill up your newly planned out space!
Was this helpful? Let us know!
Resource: Seating Chart
Save
Save
Save
Save
Save
Save
Save
Save